If you love the desert, a stay at the Mitzpe Ramon Youth Hostel is the perfect place.
read more
Mitzpe Ramon Youth Hostel Youth Hostel invites you to enjoy comfortable hosting at a great location and affordable prices. Our stunning location is on the cliffs overlooking the largest natural crater in the world. We offer spacious pleasant rooms suited to couples, families, groups and singles. All rooms come with air conditioning, shower and toilet, a fridge, TV, and coffee corner.
read more
If you'd like to stay over in the desert, the Mitzpe Ramon Youth Hostel offers an outstanding experience, integrating the amazing desert landscape, the freshest air you can imagine, and a wide range of activities suited to couples or families. Your stay at Mitzpe Ramon Youth Hostel includes a rich, delicious breakfast, and use of site facilities: free Wi-Fi, a TV room, instruction rooms outfitted with audiovisual equipment and other educational accessories.
Our reception desk staff will also be happy to recommend treks and experiential activities nearby. Enjoy our onsite educational and enrichment activities, suited to groups, families and class outings.
The Ramon Crater is the largest in the world, creating over a period of millions of years beneath the sea. It attracts thousands of visitors due to its stunning vistas and the incredible tranquility surrounding the area. Use your stay at Mitzpe Ramon to enjoy a wide range of experiences suited to parents and children, from sunset and sunrise tours, jeep or camel trips. Hikes, bike trails, extreme sports such as snappling, and a unique astrological observation site.
The Visitors Center is located right near the Mitzpe Ramon Youth Hostel. Listen to the fascinating life story of Israel's first astronaut, the late Ilan Ramon, and the Colombia space shuttle mission he joined. Not far from the hostel you'll find the Spice Route region, offering festivals and dance events throughout the year, unique bakeries, vintage shops, the alpaca petting farm with 100 alpacas and lamas from South America, Sdeh Boker Museum where Israel's first Prime Minister, David ben Gurion, once lived, and more. close
close

Located on the cliffs overlooking the amazing Ramon Crater.

Close to the Ilan Ramon Visitors Center, the Spice Route, bike tails and jeep tours.

Lecture and teaching rooms with audiovisual equipment.

69 spacious rooms, pleasant and suited to couples, families, and groups.
Hosting with content Mitzpe Ramon
Deals in Mitzpe Ramon
Surprising prices for a great Israeli experience at ANA hostels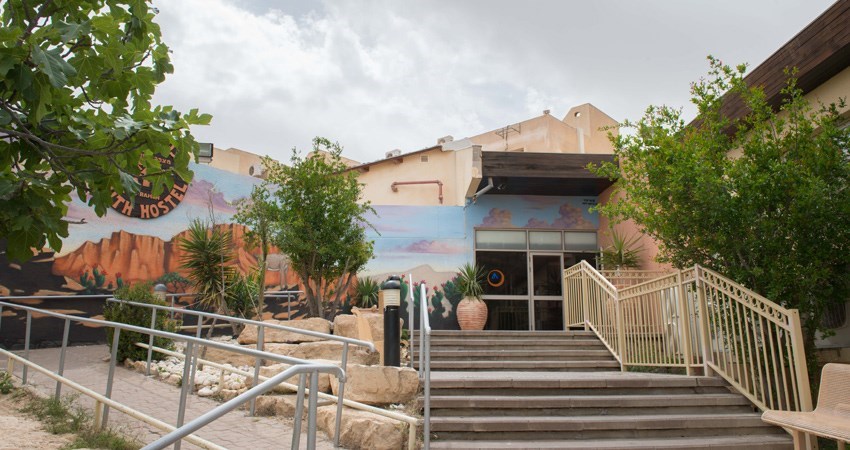 Hostel Includes
icon
Reception desk: Sunday to Friday from 7 AM to 10 PM.
Check in: starting from 3 PM.
Check out: up to 10 AM.
Free Wi-Fi access.
Lecture hall and classrooms with audiovisual equipment.
icon
The hostel offers a rich varied breakfast.
Meals are kosher under local Rabbinate supervision.
Order in advance for additional fee:
Lunch
Packed meals.
Vegetarian, vegan, lactose free or gluten free options.
icon
Instruction rooms with audiovisual equipment.
Lecture hall suited to conferences and lectures.
icon
Mobility accessible rooms compliant with the law.
Mobility accessible corridors to rooms, dining room, classrooms, halls and other central spaces.
Leader strips and surfaces for sight impaired guests.
Hearing assistance for hearing impaired guests.
Accessible reception area.
Hand grips and railings.
Signs compliant with the law.
Location and access routes
Arrival By Car:Coming by car from the north , drive south on Road 40 until you enter Mitzpe Ramon. At the roundabout continue straight and then turn right onto Nachal Chava street.
Coming by car from the south , drive north on Road 40 until you enter Mitzpe Ramon. Before the roundabout, turn left onto Nachal Chava street.
Coming by bus from Jerusalem Tel Aviv, or the Center travel to Beer Sheva's Central Bus Station, from where bus lines 60 and 65 run regularly to Mitzpe Ramon.
Coming by bus from Eilat or the south :bus line 392 runs several times a day from Eilat. Take the bus to the entrance of Mitzpe Ramon, get off at the "Sderot KKL / Sderot Ben Gurion" stop,
Address:
Nahal Nekarot 4, P.O.B. 2, Mitzpe Ramon, 80600.
Phone:
+9722-5945566
Email: